Once you've been bamboozled, it is almost impossible to become un-bamboozled.
This was from an AskReddit question about "What was the best quote or life changing saying or most profound advice people had heard?" Something like that; but my search did not find the exact entry to cite. One of the answers was this one. It's great. I mentioned this to a friend of mine; he thought Carl Sagan had said it. Well, essentially yes, but not exactly. Carl Sagan's quote goes like this:
"One of the saddest lessons of history is this: If we've been bamboozled long enough, we tend to reject any evidence of the bamboozle. We're no longer interested in finding out the truth. The bamboozle has captured us. It's simply too painful to acknowledge, even to ourselves, that we've been taken. Once you give a charlatan power over you, you almost never get it back."

https://www.goodreads.com/quotes/85171-one-of-the-saddest-lessons-of-history-is-this-if
This is well said, but also really wordy, plus throws in a ten dollar word: charlatan. I like the short and sweet version.
It seems to me that the almost the entire USA has been bamboozled about politics.
The Left has been bamboozled that Donald Trump Is A Bad Man.
The Right has been bamboozled that Donald Trump Is A Good Man.
I remember seeing a cartoon not that long ago (within a year or two) that had a King on a balcony with an advisor, overlooking an angry mob. Here it is (I linked to the original source, so you can get to that web page – credit where credit is due):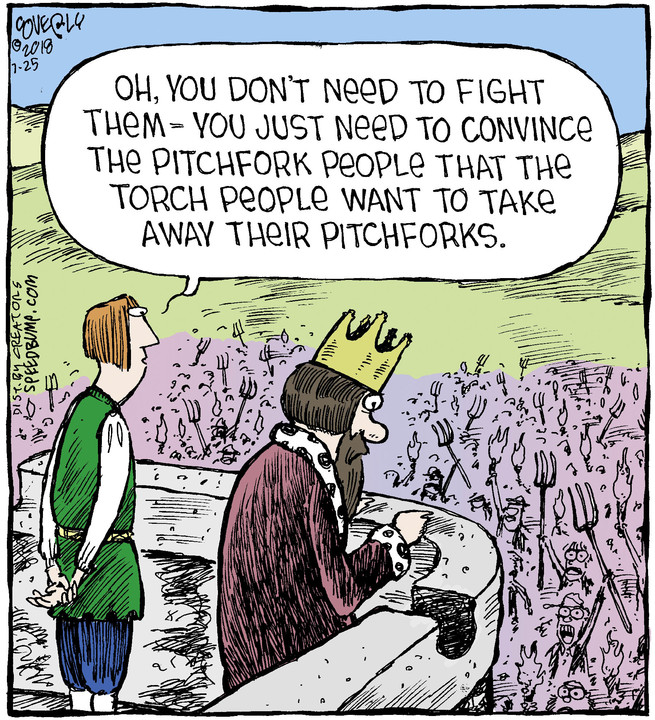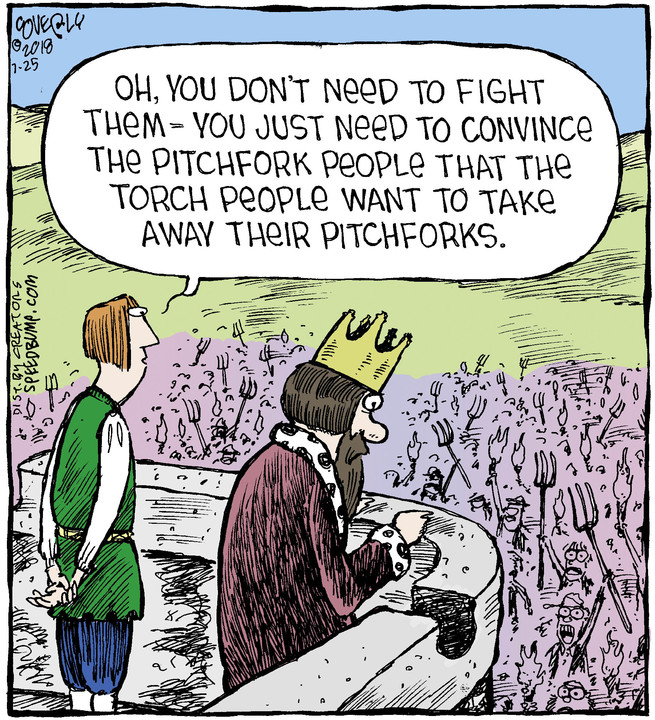 The advisor was saying to the King: "Oh, You don't need to fight them – you just need to convince the pitchfork people that the torch people want to take away their pitchforks."
When I went looking, Google search failed to find this cartoon. I mentioned it to a friend, and he saw it on Facebook. I asked him to forward it to me. From there, I was able upload it to Google Image Search, and then finally find the original publisher. The conspiracy theorist spoiler alerter in me thinks the search engines of the day have de-ranked or removed this image in search results because it spoils the narrative.
The idea here is an intersection between the two old sayings A house divided against itself cannot stand and The People restrain themselves and anxiously hope for just two things: bread and circuses.
The Left is thoroughly convinced that The Right has been bamboozled. The Right is thoroughly convinced that The Left has been bamboozled.
I am convinced both have been bamboozled by the deep state and it's unholy alliance with mass media. When I say mass media, I'm also looking at you: Facebook and Google and Twitter.
Here's the thing about Donald Trump: he was never supposed to be President.
The deep state mass media planned to get Hillary Clinton. They thought they earned Hillary Clinton. By knocking out every good opposing candidate, there was no way that Hillary could lose. There was no way that Hillary Clinton could lose against Donald Fucking Trump. Knock out every other candidate, and the election was a done deal.
This was perfect for the deep state, because Bill and Hillary Clinton were already players. They'd played ball before, and were happy to play again. As insiders, their keepers had leverage on them, and as players, they knew their keepers would be comforted with them as lackeys. It was a win-win situation.
But ("oh by the way") Hillary Clinton was the worst possible candidate for President.
Which is proven out, because she lost to Donald Fucking Trump, dontcha know. Fair and square, she was simply that BAD of a candidate. And to be fair, Donald was actually a very good campaigner, and a master of Twitter trolling. His campaign speeches were super entertaining. The deep state completely underestimated how well Donald would perform.
Donald was an outsider. This was a disaster for the deep state.
Chuck Schumer delivering the deep state warning to Donald Trump to play ball or else (after election but before inauguration).
Donald bristled at being told to take his role of lackey. Now the deep state is on his shit list.
If Donald made it to a second term, there was no remaining leverage to keep him from ravaging the deep state.
Does it appear to you that Donald rolled over and became a lackey?
The only choice the deep state had was to backstab the sitting President every chance they could get.
Wow did they ever.
The Commander In Chief: that is who the deep state is supposed to obey. Instead, they did everything they could to subvert CIC/POTUS. They became traitors to the rule of law.
And you, dear reader, got taken in by the charlatans that Donald Trump Is A <‽> Man.